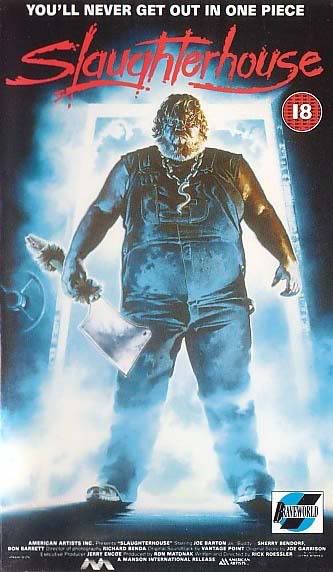 Program Power Entertainment brings us Slaughterhouse, the first in their Lucky 13 Cult Collectibles line.  An old hog farmer and his son Buddy, a 360 pound man who grunts and squeals and loves to slice people apart with his meat cleaver, have their farm closed down after they refuse to sell their land.  When Buddy kills an unsuspecting teenage couple for messing with his hogs, old man Bacon starts to see a better use for Buddy.  He lures the people responsible for closing his farm into the old slaughterhouse with the intent of having Buddy kill them.  Unfortunately, this is also the setting for a horror movie a group of teens are filming. When Buddy sets his sights on them, a fun film shoot quickly turns into a gruesome blood bath.
I was really surprised by this film.  I had heard a few negative things about this movie and to tell you the truth, I wasn't really sure what to expect. When I finished watching it, I realized that this was a damn good movie.  It had everything that a good slasher should have: A crazy killer, savage and shocking deaths scenes, lots of gore, a good story and good acting.  I'm happy to say that Slaughterhouse has all of these.  Buddy and his father come off as an absolutely dark, savage and evil duo.  There are a few predicable moments, but hey, this is a slasher.
The sound is pretty good on this DVD with no noticeable pops.  The video quality is just okay.  There are moments of noticeable grain and a few splotches that are mildly distracting.  As you can see, this DVD is absolutely jam packed with nifty special features.  The making of featurette is just a long interview with the writer/director.  This is a really interesting interview that also has some cool behind the scenes footage.  The financing featurette is also really informative and really shows the money management aspect of a independent horror movie.  The  Georgetown and Washington featurettes are kinda pointless and just have the actor that plays Buddy signing autographs and shaking the crowds hand.  There is a bunch of DVD-ROM content, but the only thing worth noting is the Photo Gallery.  It has a ton of behind the scenes stills that are worth taking a look at.
Overall, Program Power has done an excellent job with this DVD.  They've taken a good slasher flick and kicked it up a notch, Emeril style, by jam packing the DVD with special features.  I absolutely recommend this DVD and give it a 8/10.