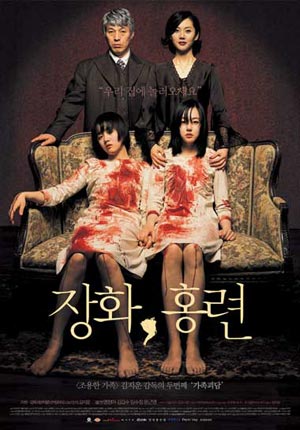 When two sisters, Su-mi and Su-yeon, return home from the hospital to their father and mean spirited stepmother, strange things start to happen inside their house.  At first, everything is normal, but when the night falls, the horror begins.
A Tale of Two Sisters works on so many levels.  The characters are very compelling, the story is well written and it makes you think and keeps you guessing up until the credits roll.  Some reviews that I had read about this film claimed that it was more of a drama than a horror film, and although there is drama in this, the horror aspects are truly frightening.  The director really knows how to work the audience up and when the scares come, they are unforgettable and chilling.
The cinematography in this film is absolutely amazing.  The mix of colors really adds to the viewing experience and never overpowers the film, it simply helps carry it along.  There is a solid mix of green, red, and blue throughout the film.  I especially loved how the camera goes handheld when we reach the climatic plot twist three fourths of the way through.
The first twenty minutes of the film is strictly character driven.  The second act in the film is very chilling and frightening.  When the third part comes, things start to get revealed, but it raises far more questions and will keep you in front of the screen until the final scene, when all is revealed.
Overall, A Tale of Two Sisters is one of the most frightening horror films I've ever seen.  The look of the film is beautiful, the acting is great, and the suspense is terrifying.  I recommend you checking out this film now, before it gets remade.  I give it a 10 out of 10.